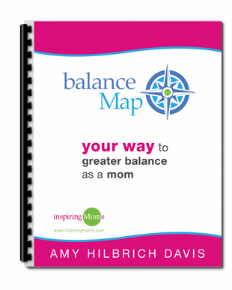 Read what parenting experts and moms are saying about the Balance MAP:
"It's crazy that more preparation is given to making a cup of coffee than to preparing for motherhood. The Balance MAP gives practical support and personalized direction for women in the trenches of motherhood!"
-Romi Lassally, Co-host of MOMS GET REAL with Juju Chang on ABC NEWS and Author of TrueMomConfessions

"Happy moms raise happy kids. The Balance MAP helps us get closer to achieving that crucial goal."
-Dr. Michele Borba, parenting expert and author of The Big Book of Parenting and 23 other parenting books

"Only Amy Hilbrich Davis, mother of seven, could have created all the right questions to help you customize your own guide to be the mom you want to be! With over 60 million combinations of personalized reports, Amy's "Five Key Ingredients" will bring you proven solutions and joy that feels inspiring (not judgmental) – The Balance Map is the only mom guide you'll ever need."
-Dr. Lynne Kenney, pediatric psychologist, author and featured expert in Parents and Working Mother magazine.
Not convinced yet? Try the Balance Map on us and receive the first section, Personal Wellness, for FREE.